Things have been a little busy here. My mom and sister have been sick, so I get to watch the baby more. That doesn't leave much time for posting. I am going to combine and do a big "mail call" on Monday.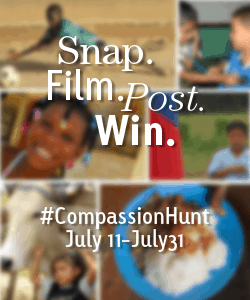 Maybe you have seen that photo floating around online. Well,
+Compassion International
is doing an amazing photo scavenger hunt! It ends tonight at 9pm MT. So, hop on over
HERE
quick to participate!
Here are my photos-
SEWING MACHINE
CHURCH
SOCCER
BABY SCALE (sort of!)
INDIAN FLAG
FOOD STAPLE
BRAIDED HAIR
SEEDS
COWS
FLIP PHONE
STETHOSCOPE
SPONSORED CHILD'S NAME
Can you guess whose name I wrote? I will give you a hint: he lives near a river and goes fishing :)